Gypsum Partition Making Dubai
People are becoming very smart now days so they care for products and services that are more durable and have a long life. Such a thing gives birth to Gypsum. HOMD Home maintenance Services Dubai knows that and so they provide services for Gypsum Partition. Today everyone wants partition which may be temporary and can be redesigned later if needed. Gypsum Partition Making Dubai understands this and hence provides services all in Dubai area. Gypsum Partition Making Dubai takes special care when they do the work on Gypsum Partition as little mistake can cause a huge labour and resource cost on clients.
Gypsum Partition is latest design going on for a while for doing partition
Gypsum Partition is highly recommended in colleges and office and also in malls.
We provide services for Gypsum partition as you need
We also provide Gypsum partition if you need temporary partition.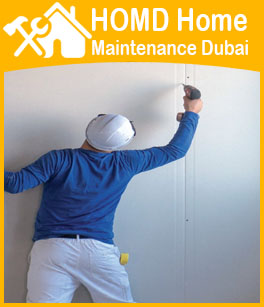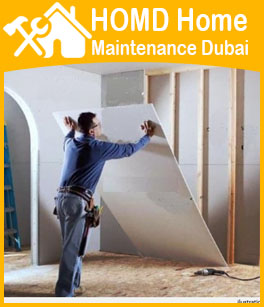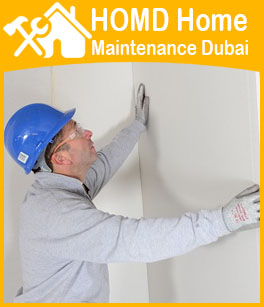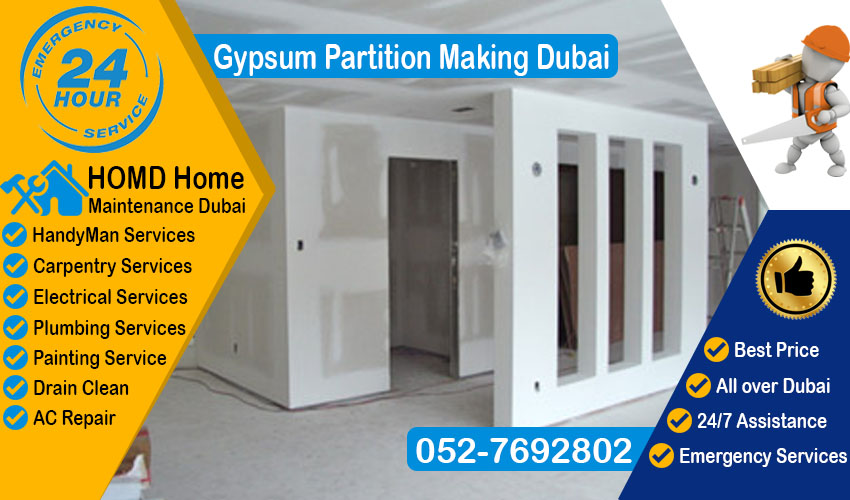 Speciality of Gypsum Partition Making Dubai:
Gypsum board is often called drywall, wallboard, or plasterboard. It differs from other panel-type building products, such as plywood, hardboard, and fibre board, because of its non combustible core and paper facers. Gypsum Partition Making Dubai has been handling Gypsum board for many years and hence their works are precise and has a finishing touch. We recommend Gypsum Partition mainly to colleges and offices where you can later change structure according to your needs.
Gypsum Partition Making Dubai is a group of professional carpenters.
We work at moderate rate than any other companies here in Dubai.
We provide services 24/7 and are ready to help you any time you need.
We have all the tools at our disposal required for gypsum partition.
Dubai Emergencies:
Do you have any Electrical or Plumbing Emergency at your Apartment Office or Villa or you are looking for 24/7 Emergency Services in Dubai? We are here to fix all of your Emergency Home Maintenance problems 24/7 any where in Dubai.
Sprung a leak? Just give a call to our experienced Emergency Handyman; he will help you to get rid of your water leakage issue.
Lights stopped working, fuse blown or the breaker is tripping in your house just call us, our emergency handyman will come and fix your issues in an instant.
Water Clogged in your Toilet, Bath Room Basin or Kitchen Sink, just call our 24/7 Help Line to assist you with Sewer & Drain Cleaning.
Home Maintenance Dubai Annual Contract:
We also provide Home Maintenance Dubai Annual Contract for your Apartment, Villa, Restaurant or Office.
Home Maintenance Dubai Activities:
Our Expert HandyMan Technician work as team and they cover a lot of activities regarding your Home Maintenance Dubai problems.
Water Leak Repair:
If you are facing any type of water leak issue from tap leaking to AC / Chiller Leak in your apartment office or villa you can call our company 24/7 for urgent Service. You can call us to assist you any time if you have following type of problems.
Your basin drain pipe Leak and spoiling your clothes as you wash your hands.
Your Ceiling AC Chiller Central Air Conditioning leakage gives you a bad sleep.
Your Water Heater Leak need repairing.
Your Kitchen Sink pipe is leaking.
Do not worry at all we have Expert Plumber to tackle with emergency water leak repairs on urgent basis. we will provide you best and affordable water leakage repair. Our water leakage repair service will make your works easier within few minutes.
Our Services
Professional HandyMen
HandyMan for any kind of Drilling Holes, Hanging Curtain, Blinds & Picture, Mirror, TV Bracket Mounting Work.
Plumbing Services
We can fix any Water related problems your facing like Water Pump Repair & Water Heater Leak Repair.
Carpentry Services
We Assemble your Furniture, Fix Hinges & Locks and we also Make Gypsum Partition in Office & Apartment.
Home Maintenance
We do Home Maintenance Work & Annual Maintenance Contract for your Villa, Ware House & Office.
Electrical Services
We can fix any kind of Electric Failure or Short Circuit, We Install New Sockets Lamp & Chandelier.
Painting Services
We have Expert Painter for Interior Exterior Painting, End Tenancy Painting & Wallpaper Installation.
Average rating:
3 reviews
Jun 20, 2017
gypsum partition
Your organization has performed professionally…their commitment to quality and the extraordinary efforts in ensuring the ultimate success of this project was wonderful. I wouldn't hesitate to recommend Henning for anything. I look forward to working with your organization again soon.
Thank you!we hope you call us in near future.
Jun 17, 2017
gypsum partition
It is very refreshing and enjoyable working with the carpenter staff, who are consistently courteous and friendly, respond quickly, problem solve and are both accountable and knowledgeable…rarely are these characteristics found in a group of people under one roof.
Thank you!we hope you call us for job in near future.
Jun 17, 2017
gypsum partition
I commend you and your team on the outstanding work you do. Your staff frequently goes above and beyond the scope of work. I look forward to continuing our relationship in the future
Thank you!we hope to serve you in near future.