Curtain Rods Installation Dubai
HOMD Home Maintenance Services Dubai provides Curtains Rods Installation Dubai who are the best in this field in Dubai area. If you need a handyman professional, Curtains Rods Installation Dubai is your best choice for a local, full-service company to complete the job. If you need curtain rod installation, our experienced handyman professionals will provide top notch service. Trust our knowledgeable handyman professionals to complete top quality work that always leaves our customers highly satisfied. Simply call to our service and we will get back to you right away with a competitive quote.
Cost Effective Service provided by Curtain Rods Installation Dubai
Great finishing touch provided by us.
We take care of every little thing so that no damage is done to rods and your walls
Reliable and efficient work.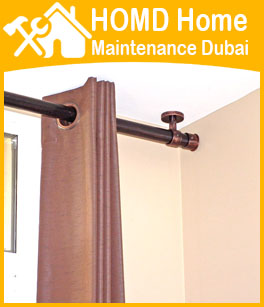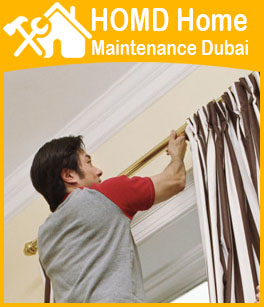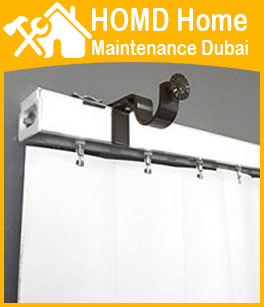 Why You Should Hire Curtain Rods Installation Dubai???
Curtain Rods Installation Dubai is a group of professional servicemen. Rod Installation for curtains is a sensitive work and we know about it so we take special care of your service.
We have all the tools and equipment required for Curtain Rods Installation.
Curtain Rods Installation Dubai servicemen are punctual and hardworking.
We take care of the rods and walls of your room.
We give a awesome finishing look to installation rods.
So if you are looking for servicemen to install Curtain rods then feel free and contact us in our 24/7 hours services.
Our Services
Professional HandyMen
HandyMan for any kind of Drilling Holes, Hanging Curtain, Blinds & Picture, Mirror, TV Bracket Mounting Work.
Plumbing Services
We can fix any Water related problems your facing like Water Pump Repair & Water Heater Leak Repair.
Carpentry Services
We Assemble your Furniture, Fix Hinges & Locks and we also Make Gypsum Partition in Office & Apartment.
Home Maintenance
We do Home Maintenance Work & Annual Maintenance Contract for your Villa, Ware House & Office.
Electrical Services
We can fix any kind of Electric Failure or Short Circuit, We Install New Sockets Lamp & Chandelier.
Painting Services
We have Expert Painter for Interior Exterior Painting, End Tenancy Painting & Wallpaper Installation.
Average rating:
4 reviews
Jul 24, 2017
curtain fixing
What a fabulous job you did with the fixing of my curtains! The merchandise displays are wonderful, and the decor complements the atmosphere you are trying to create beautifully.Without your thoughtful planning and oversight, an undertaking like this would have been nearly impossible.great job, Thanks
Thank you!we hope to more call in near future.
May 31, 2017
curtain rod installation
I want to commend you for your work,your staff are highly professional.Great job
Thank you!we hope to get more jobs from you.
May 30, 2017
curtain installation
am very pleased with the curtain installation. I had only a vague notion of what I needed, but you translated it into a very useful and durable product
Thank you!we hope to serve you more.
May 29, 2017
curtain instalation
My special thanks to you and your team for the wonderful job you did on in my home.
Thank you!we hope you call us for more jobs.